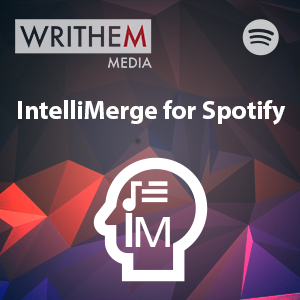 IntelliMerge for Spotify
With this helpful app, you'll be able to make Master Playlists that are smart enough to update themselves based on the contents of other playlists. Have you ever wanted to include a Spotify curated playlist that is frequently updated into your own custom playlist without having to keep track of what's new? Now you can. With IntelliMerge for Spotify you can create playlist links that are frequently monitored for changes and propagated to your Master Playlist. Now you can merge Spotify playlists from any user like a pro.
You are not currently logged in. Please login to create a new Master Playlist or edit your existing Master Playlists.
Recent Changes:
12 Jan '21: v2.1.3.4415 - ⌚
Fixed
Just a minor update to fix an out-of-bounds error on the manual queue button once we changed the DB field to TIMESTAMP from DATETIME. Clicking the queue for refresh button should now set the last update date to one second past Jan 1, 1970 instead of one second past Jan 1, 0000.
19 May '20: v2.1.3.4405 - ⚓
Fixed
Further improvements made to the race-condition checking.
Some weird scrolling was going on on the FAQ page. Fixed that up and made anchors more responsive. (Issue #15)
13 May '20: v2.1.2.4325 - 🏎️
Fixed
Finally found that duplicates glitch pointed out in Issue #10. Was a race condition that if two update threads were running at the same time, they didn't properly claim the task for themselves. To remove any duplicates that IntelliMerge may have added you can either remove them manually or you can remove all songs and let it rebuild entirely. Sorry about that!
For a full list of updates you can check the
changelog
.
Our website is made possible by displaying online advertisements to our visitors.
Please consider supporting us by disabling your ad blocker. Alternatively, subscribe to our VIP membership to completely remove ads and therefore also remove the need for your ad blocker on our site. Details can be found on the
Profile
page once you are signed in.