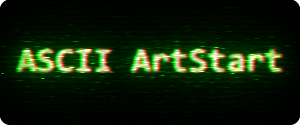 ASCII ArtStart
A small text-only motivational or fun image to set as your server MOTD or push to your text only devices each day. Enjoy a different MOTD every day. Start your day off right, with an ASCII ArtStart.
Recent Changes:
24 Mar 2020: v0.4-"Embed"
Can now export any artBoard as png. This also works to embed the image in your favourite social media client for that day.
05 Mar 2020: v0.3-"Alphabet"
Users can now login via Google. You can link your existing account to your google account from the profile if you wish. Alternatively you can login with either, or both.
A Calendar has been added.
Fully featured approval process has been finalized.
Full ArtBoard History is now visible and integrated wherever you are authorized to see it (ex: your own ArtBoards).
For a full list of updates you can check the
changelog
.
There are 137 ArtStart Boards in total that have been Approved to be shown in our database of which 1 are scheduled for future dates.
There are 5325 ArtStart Boards that have been created but not submitted for approval yet.
Additionally there are 0 ArtStart Boards waiting for admin approval in our database.
Good news that there is currently no rejected ArtStart Boards that need to be edited and resubmitted
The first ArtStart Board we had was for: Friday 7th February, 2020